Support services jobs
Healing is a team effort. And at VA, we need staff from all professions and backgrounds to support the care we give to Veterans. Helping Veterans and their families attain health and hope is our duty, and every team member at VA has a unique, meaningful role to play.
Support services job openings
You'll have limitless room to grow and advance in your career at VA. Take a look at all we can offer you and explore support services opportunities that will push your talent to exciting new heights.
Here are some sample USAJOBS searches we recommend to get you started.
Facilities/maintenance
Safety 
Patient services 
Working at the VA, I understand my role, and the purpose and it's a beautiful thing to take care of Vets, but also I have job security, I have, my paycheck is guaranteed, I have healthcare.

Edwin Marcano-Garcia
Program Support Clerk, Logistics
A prescription for success
From food service workers to environmental services to police, our support services team is making contributions that count.
At VA, you'll find a meaningful career and a supportive environment where everyone is united in the mission to serve those who served America. With a host of training and educational resources available, we continually invest in your potential, helping you exceed your goals.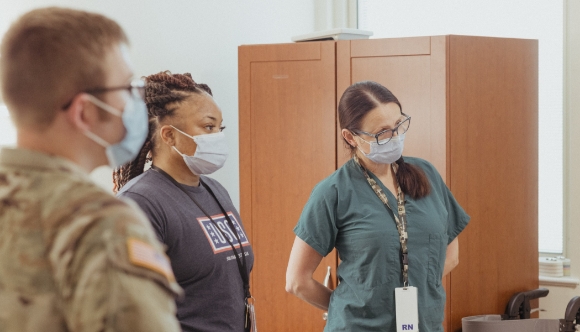 Support your education
We offer loan repayment, scholarships, and more.
Administration careers
Work behind the scenes to support delivery of health care to Veterans.
Discover the total rewards of a career caring for Veterans
These downloadable flyers and brochures come packed with details about the benefits of serving Veterans enrolled in VA health care.