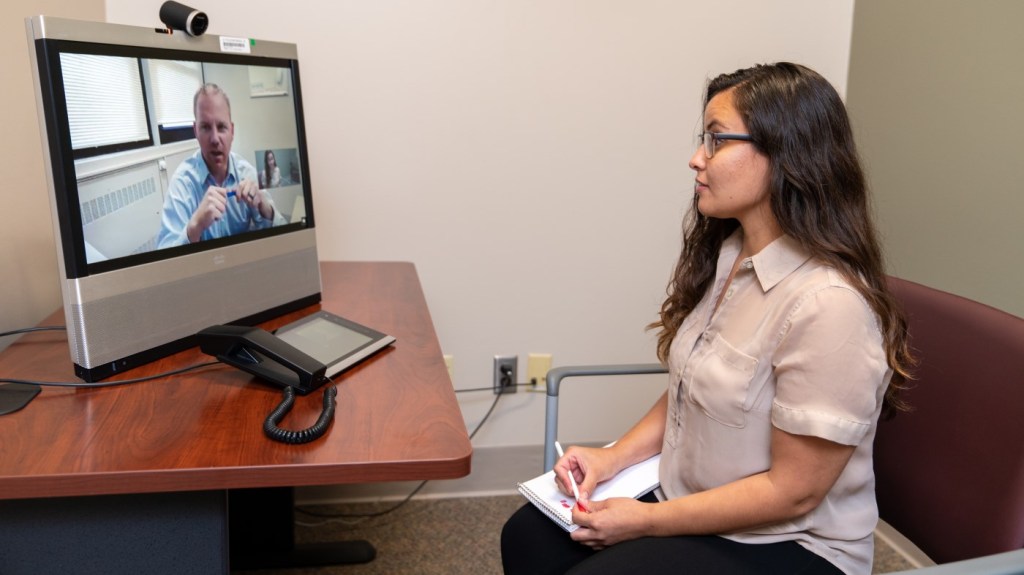 From providing access to primary care to offering instant support for non-urgent needs, VA leads the way in providing telehealth resources to patients.
We've also created many new jobs that work with and in telehealth services, creating exceptional opportunities for people like you looking to join our team.
2 decades in telehealth
Recently, our Telehealth Services program office marked 2 decades of telehealth advancement that has brought additional support and care to millions of Veterans.
The founding of the office was announced in a 2003 address to Congress by then-VA Under Secretary Robert Roswell. Speaking to elected officials, Roswell said the purpose of the program was to "support field staff in the national deployment of care coordination and home telehealth."
In the 20 years since, VA Telehealth Services has expanded on VA's long history of using technology to deliver care. Today, VA is recognized as a world leader in the development and use of telehealth, and last year provided virtual care to more than 2.3 million Veterans.
Ever-expanding investments
Since making our first investments in the field, we've developed a broad spectrum of clinical care and expanded our telehealth operations to care for even more patients in more specialties.
When demand for telehealth options increased at the Cincinnati VA, especially for Veterans living with neurodegenerative conditions, we invested in a telerehabilitation program. Backed by our Office of Rural Health, Cincinnati VA now offers Veterans the opportunity to explore rehabilitation services from the comfort of home, which has been a game-changer for many Veterans.
VA's National Oncology Program is hiring oncologists for its national teleoncology service. Based at the Durham VA Medical Center, our cancer specialists around the country work through this main hub from their local office, providing care virtually and giving patients access to a broader window of expertise.
Speaking of hubs, last year VA opened a new Clinical Resource Hub (CRH), the first facility of its kind in our network. Based in Boise, Idaho, the CRH serves as a space for VA staff treating Veterans via telehealth and accommodates over 200 staff members, including physicians, advanced practice providers, psychologists, social workers, nurses, schedulers, pharmacists, technicians, and administrative support.
Meanwhile, in other locations around the country, many Veterans have joined telehealth nutrition programs. The virtual aspect makes these programs convenient and accessible, allowing our nutritionists to easily address weight management or focus on conditions related to nutrition, like diabetes, heart disease, or high cholesterol.
Greater job opportunities
Over 9 million Veterans count on us for quality health care infused with a deep understanding of their complex needs and the challenges they face. Efforts to expand that care through telehealth programs illustrate that careers at VA are constantly evolving, which means more job opportunities in a variety of fields.
Whether you're a clinical expert, like a physician or a nurse care manager, or a specialist with a particular focus like occupational therapy, we innovate new ways to consult with each other and care for Veterans reaching out to us from the comfort of their own homes.
We start every day with a fresh commitment to making life better for the brave men and women who risk so much to protect our freedom and our country, because we believe it's up to all of us to make sure Veterans can enjoy the health and happiness they deserve.
Work at VA
Telehealth at VA gives Veterans access to the care they need from anywhere and gives you the opportunity to find a career that counts.