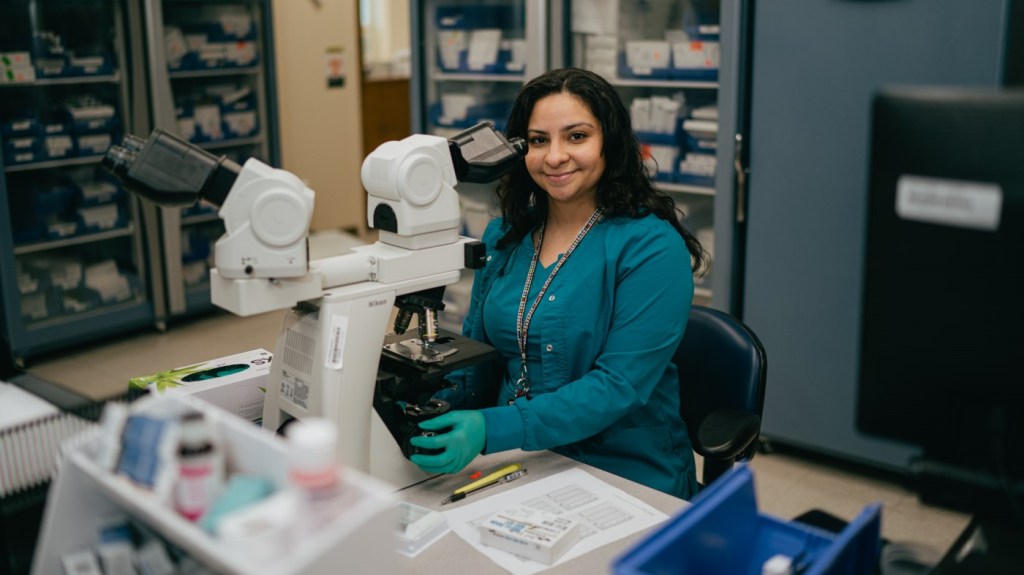 Cutting-edge research is more robust today than ever at VA medical centers nationwide. If you have a passion for exploring solutions with a real-world impact on the lives of others, you'd fit right in on our team.
What does VA research provide?
Our research programs play a vital role in the delivery of high-quality, cost-effective care for the nation's Veterans, and make significant contributions to advances in diagnosis and treatment of disease and disability.
As we work to improve Veterans' lives through health care discovery and innovation, VA research is often the channel for new technologies to be introduced, federally approved, and brought to clinical environments around the country. Over the years, our work has developed effective treatments for tuberculosis and invented the CAT scan. VA doctors also were the first to ever perform a liver transplant.
Now, as the Sergeant First Class (SFC) Heath Robinson Honoring Our Promise to Address Comprehensive Toxics (Honoring Our PACT) Act provides the biggest expansion of Veteran health care and benefits in generations, research is critical to making sure we're ready to provide exposure-focused care, increase the likelihood of early diagnoses and treatments, and ensure the best health care outcomes.
How does VA research work?
The research process in VA starts with a focus on the everyday health needs and concerns of the more than 9 million Veterans we serve. In consultation with national and regional VA clinical leaders, we identify challenges, and set to work finding solutions that will improve Veterans' lives through discovery and innovation.
Right now, our researchers are exploring over 7,000 research projects, all with a goal of developing solutions in labs, clinics, and even the communities we serve. These solutions are then applied to patient care or translated into new or improved programs as rapidly as possible.
These projects can be found across 4 research and development services:
Working together, these services form a cohesive way to explore all phases of our Veterans' health care needs.
Diversity in VA research
Scientists and trainees from diverse backgrounds and life experiences bring different perspectives, creativity, and individual enterprise to address complex health-related problems.
We've developed funding opportunities in mentored research for junior VA investigators from underrepresented backgrounds. These research supplements pair early-career investigators with established VA researchers.
The supplements, supported by the Office of Research and Development (ORD), have led to:
Research into virtual reality technology to help Veterans with mild cognitive impairment
Repurposing of existing drugs to treat substance use disorder
Broadened career opportunities for those looking to join our team
VA research and you
Are you interested in helping to improve the health care of Veterans through meaningful work in a collaborative environment? Do you have a passion for research and data? Do you have the training and education to back it up? Then you have what it takes to be an important part of a VA research team (or two… or more!)
Right now, there are opportunities all around the country to work in research at VA, whether on the ground working directly with researchers or in more administrative roles, applying your leadership skills to help manage the flow of information and funding for these important projects.
Whatever your role, you'll have access to the numerous benefits we offer all our VA employees, including generous paid time off, access to federal insurance options and retirement plans, and the opportunity to pursue a healthy work/life balance.
What's more, some of these roles offer access to education support benefits, like VA's Education Debt Reduction Program (EDRP), which has helped more than 20,000 of our employees repay their student loans faster. EDRP provides up to $40,000 a year — or $200,000 over a 5-year period.
Best of all, these funds are tax-free and do not require a mandatory service agreement. If you choose to leave VA before your 5 years are up, you don't have to pay back any of the funds you have received.
But it's unlikely you'll leave, as these benefits — combined with innovating new ways to be of service — make VA an incredible place to work for researchers of your caliber.
Work at VA
Research is all about finding the best solutions, so answer your career questions by considering what VA has to offer.