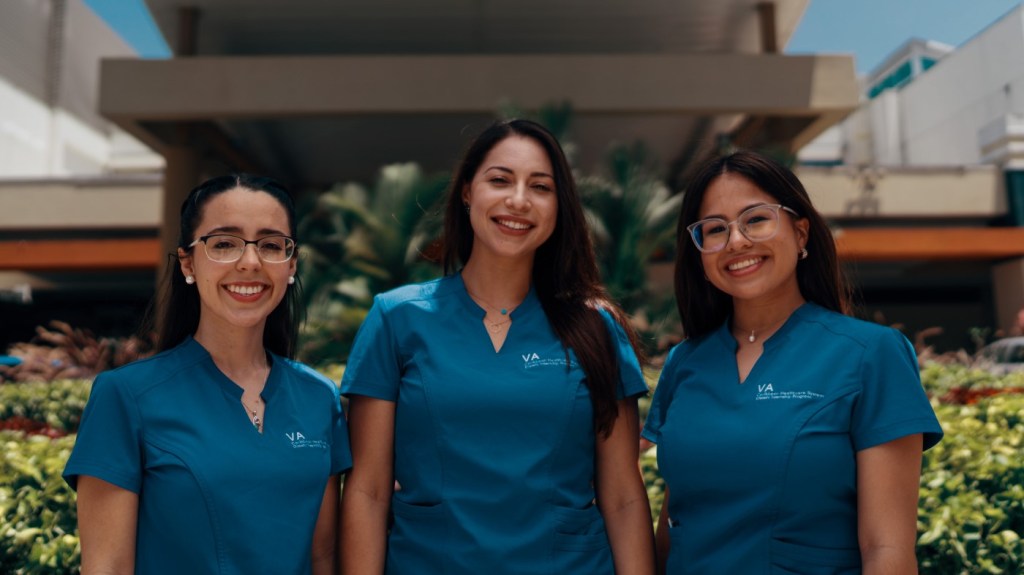 With a job at VA, you're setting yourself up for a rewarding career serving Veterans, but have you ever wondered exactly what rewards you can expect?
We want to make sure you have the most information possible when it comes to deciding why VA is the right fit for you, so we've developed a series of flyers and brochures that break down what you can expect when you begin a career at VA.
Curious about compensation? Querying our coverage options? Baffled by benefits questions? Take a look at our Total Reward$ brochures and learn what's waiting for you at VA.
Explore the rewards
When exploring the Total Reward$ offerings, you'll find brochures dedicated to numerous positions across VA, including those critical-need positions we're working so hard to fill across our more than 1,300 facilities.
The jobs you'll find there run the gamut, exploring clinical careers like physicians, nurses, psychologists, nursing assistants, medical technologists, social workers, and other good folks who work directly with the more than 9 million Veterans who rely on us for care.
You'll also find information about nonclinical roles like food service workers, environmental services technicians, and various human resources jobs, all of which are essential for keeping our facilities running and supporting the work of our clinicians.
In each brochure, you'll learn more about the role and hear from someone who works at VA doing that very job. We'll also show you a range of salaries and a breakdown of how certain benefits translate monetarily, all with an eye toward giving you the best possible picture of what you can expect with a career at VA.
Across-the-board rewards
No matter the role you choose, there are some rewards that just won't change, because we value you the way you value our Veterans.
VA knows that your time is important, and we give you more of it by offering 13-26 days paid leave, as well as 13 sick days annually, 11 paid federal holidays each year, and 12 weeks of paid parental leave.
When the time comes to retire, your finances will be secure. VA employees have access to the Federal Employees Retirement System (FERS), which allows you to tax-defer a portion of your income each year, similar to a 401(k). The government automatically contributes 1% of your salary, with additional matching contributions up to a total of 5%.
With Federal Employees Health Benefits, you can prepare for the unexpected and choose from a variety of plans that all cover preexisting conditions for you and your family. We'll also help you prepare for what comes next with Federal Employees Group Life Insurance, which covers you and eligible family members.
All those benefits are in addition to any benefits you earned if you served in the military. As a VA employee, you can choose to carry over eligible military service time that can be added to your total years of service for retirement purposes.
For retired military personnel, our financial benefits are in addition to full monthly retirement pay or pension, while those Veterans who choose to continue their service in the reserve or National Guard can receive 15 days of military leave a year.
Reward-forward
The information you'll find here is by no means the end of the road, though. Thanks to recent legislative efforts, we're able to provide better incentives for you to come work at VA, and working to add even more in the future.
Passed in August 2022, the Sergeant First Class Heath Robinson Honoring Our Promise to Address Comprehensive Toxics (Honoring Our PACT) Act includes higher recruitment and retention bonuses, as well as up to $100,000 in student loan repayment for qualifying applicants, particularly for those interested in serving in a rural location.
Meanwhile, the VA Clinician Appreciation, Recruitment, Education, Expansion, and Retention Support (VA CAREERS) Act would provide us with even more tools to recruit highly qualified medical personnel like you and support you in ongoing career training.
This bipartisan bill would modernize the pay system for physicians and senior leaders, making it easier for us to compete with salaries in the private health care sector, and would allow us to keep current with salary trends by revisiting and resetting pay for these positions more frequently.
In addition, under the VA CAREERS Act, you could receive reimbursement for more ongoing professional education costs and, if you're one of our scholarship program recipients, we'd be able to cover your licensure exam costs, too.
Work at VA
Dig into the total rewards of a VA career and reaffirm what you already know: there's a job waiting for you at VA.