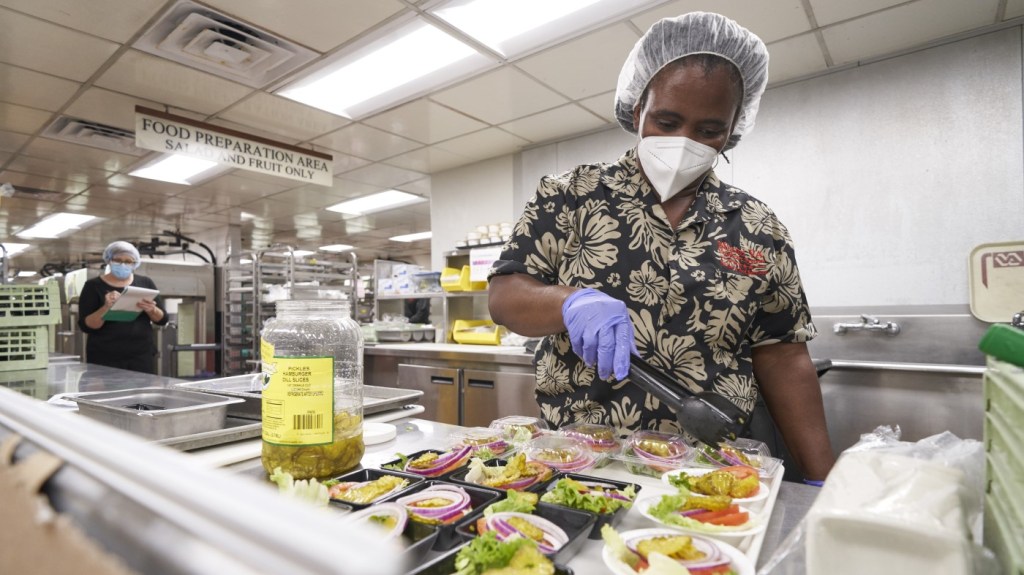 Food has a way of bringing people together, bridging boundaries and connecting cultures. No one knows this better than the people who join our Nutrition and Food Services (NFS) team, because at VA, our diverse and dedicated Veterans deserve nothing less than the best when it comes to a good meal.
"I did not serve our country in the military, but I have an opportunity now to serve those who did," explained Emily Kohls, NFS chief at the VA Nebraska Western Iowa Health Care System and chair of the Nutrition Field Advisory Board (NFAB). "They deserve the very best care, and it is fulfilling to work in service to them each day."
Finding your fit in food services
Whether you're interested in serving meals, preparing them, or finding the best ways to offer healthy options to Veterans, there's a place for you as part of Nutrition and Food Services at VA.
While the name pretty much says it all, there's quite a bit that goes into being a cook at a VA facility. As with someone working in a restaurant, your work may consist of grilling up breakfasts one minute and shifting to cold cuts for lunch the next. You'll also be working in large quantities, given that you could be making meals for hundreds of patients at a time. Still, if you know your way around a large kitchen, you would be welcome at VA.
VA's food service workers are essential to patient care as they deliver excellent dining that nourishes the Veterans they serve. As with our cooks, food service workers work in our cafeteria environments, but you're at the front of the house, setting up stations and serving food to Veterans and visitors. And when the rush is over, you chip in around the kitchen with cleaning and maintenance, because safety, sanitation, and quality — along with customer service — are the keys to our success.
Having been educated and trained in a wide scope of skills, dietitians have the expertise to step into numerous roles as part of VA's integrated system of care. Leadership roles, opportunities to work with kitchen teams, and even the chance to explore data informatics and analytics are all on the table (pun intended) for dietitians, as our interns in San Juan, Puerto Rico have experienced. You can even explore telehealth opportunities, like teaching healthy eating classes from your home.
"Nutrition is expanding in exciting new ways," explained Dr. Anne Utech, national executive director of the NFS and manager of the NFAB. "And VA is at the forefront of innovation in the field of nutrition. Really, whatever your specialty or your interest, there's a place for you here."
Benefits you can count on
With a job in food services at VA, you'll be able to take advantage of numerous benefits that will change not only your career, but your personal life as well.
We offer the choice of a variety of health plans, and all cover preexisting conditions. Additionally, we pay up to 75% of health premiums, a benefit that can continue into retirement, making our insurance some of the best you'll find.
At VA, our employees receive 13 to 26 paid vacation/personal days, 13 sick days annually with no limit on accumulation, and 11 paid federal holidays each year, so your schedule can be balanced with your personal priorities.
And when you're ready for a new challenge, we offer ongoing leadership development through every level of employment, whether it is mandatory programs or competitive opportunities. We also have resources that make it easier for you to continue your education if you choose.
Work at VA
We are always looking for qualified and motivated people to join our Nutrition and Food Service team, so share your love of food with the Veterans who deserve a taste of the very best.