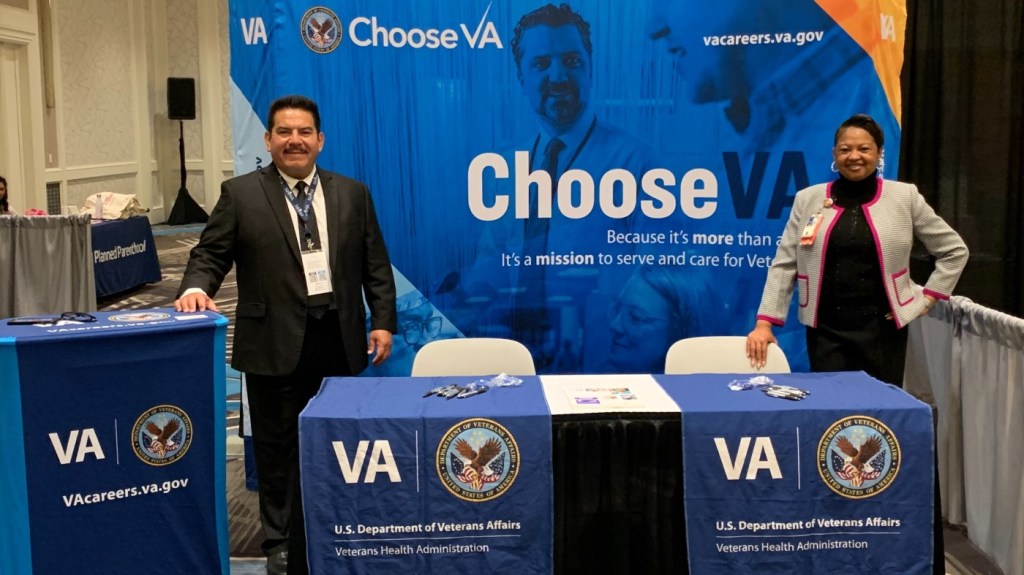 As we move beyond Labor Day and get back into the full swing of the new school year, there are several events throughout September where you can find our recruiters, offering some insight into what makes VA such a great place to work.
Whether you're a trained mental health professional, a recent graduate, or a student planning your future, there's a chance for you to meet with members of our team and learn what a VA career means for you.
In September, we'll be attending the following events:
U.S. Psych Congress
To kick off the month, you can find our recruiters at the U.S. Psych Congress, which will be held in Nashville from Sept. 6-10, 2023.
The U.S. Psych Congress is the country's largest independent mental health educational conference, and serves as a unique forum to connect members of the entire mental health team—psychiatrists, nurse practitioners, physician assistants, psychologists, primary care physicians, and other mental health professionals.
You can register for this event here.
HBCU Week Career and Recruitment Fair
Tapping into the talent available through Historically Black Colleges and Universities (HBCUs), the 5th annual HBCU Week Career and Recruitment Fair will be held on Sept. 28, 2023, at the Hyatt Regency Crystal City in Arlington, Virginia.
This career fair will feature professional development sessions and recruitment opportunities from numerous organizations, and VA will have a presence there to share all the positive benefits of working in service to Veterans and helping them get better faster.
You can register for this event here.
FAPAC Hybrid Student Career Fair
The Federal Asian Pacific American Council (FAPAC) will be hosting a Hybrid Student Career Fair on Friday, Sept. 29, 2023, from 11:00 a.m.-3:00 p.m. ET at Montgomery College in Rockville, Maryland.
FAPAC is a nonprofit, nonpartisan organization representing the civilian and military Asian Pacific American (APA) employees in the federal and District of Columbia governments, and they will welcome you to meet with representatives of over 50 organizations—including VA!
They will also be offering informative workshops in the weeks leading up to the event, helping both students and recent graduates with navigating USAJOBS, writing a federal resume, and interviewing.
You can register for this event here.
Explore these events
Why consider a VA career? Because at VA, our core values—integrity, commitment, advocacy, respect, and excellence—define who we are as employees and how we will fulfill our mission to care for Veterans. We feel these 5 ideals describe our culture and serve as the foundation for the way we interact with our Veterans and our fellow employees.
Integrity: We choose to act with the highest professional standards and maintain the trust of all with whom we engage.
Commitment: We work diligently to serve Veterans, and are driven by an earnest belief in VA's mission.
Advocacy: We are truly Veteran-centric, as we work to identify, consider, and advance the interests of Veterans.
Respect: We treat all those we serve and with whom we work with dignity and respect, because we believe you must show respect to earn it.
Excellence: We strive for the highest quality and value continuous improvement.
Together, these values provide a measure for the standards expected of all VA employees, reminding everyone that "I CARE."
"It's an awesome place to work. It's really awe-inspiring," said Raquel Gonzalez-⁠Hodge, supervisor for the Recreation Therapy Program at the San Juan VA Medical Center. "We're very dedicated staff. We know our role and our mission and we carry that in heart."
Work at VA
Are you ready to take the first step toward a rewarding VA career? Join our recruiters at these upcoming events.