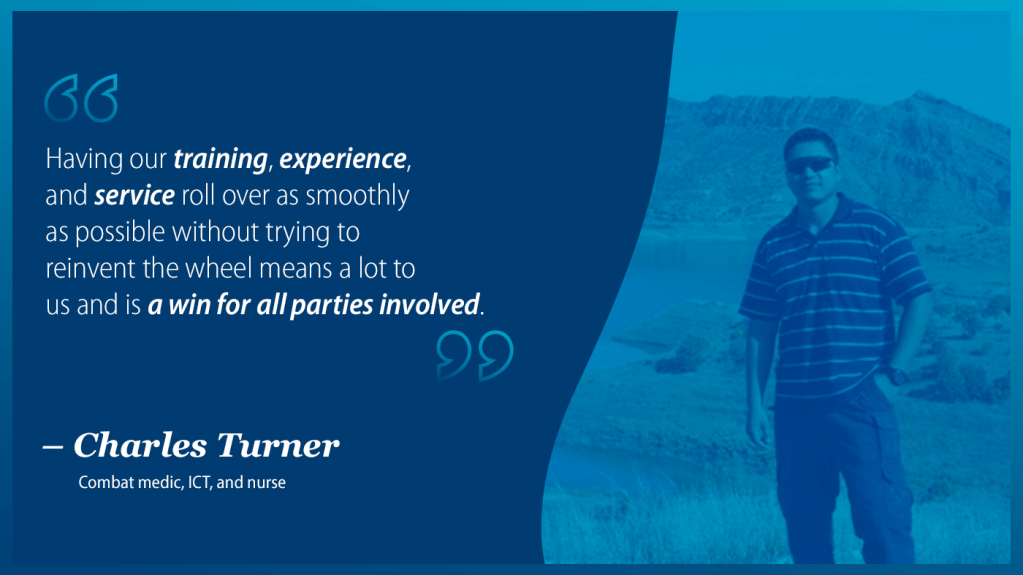 For Veterans and transitioning service members with medical training, VA's Intermediate Care Technician (ICT) Program provides an opportunity to take on health care support roles without any additional licensure or training.
Charles Turner, a former Army Special Operations combat medic, has taken his opportunity to work as an ICT at the Louis Stokes Cleveland VA Medical Center one step further. With the support of the VA National Education for Employees Program (VANEEP) scholarship, Turner has completed nursing school and plans to become a nurse anesthetist.
Turner recently took some time to share with us how he first came to VA, and what his work has meant to him.
What was your first experience with VA?
I have a friend who was doing research at the Louis Stokes Cleveland VAMC that bugged me repeatedly for about 6 months to come enroll [for benefits] here. Her father is also a Veteran, and she was determined to get both of us enrolled here, especially since both of us were resistant to the idea.
Like her father, I knew that I was relatively healthy and thought that I'd be taking up valuable, limited resources and space that could be better used on Veterans more in need than me, but I eventually came over here and enrolled in 2017.
What made you decide to apply for the ICT program at VA?
I had never heard about the ICT program and knew nothing about it. I was at the My HealtheVet table getting enrolled by the gentleman who worked there. There was nobody else in line, so we struck up a conversation about my background, military service, and what I'd been up to since separating from the military.
Dr. Jill Huded overheard our conversation from her office and went to get Kristina Snell, who was an ICT here. Kristina introduced herself to me, introduced me to Dr. Huded, explained the ICT program to me, and they both encouraged me to apply for a position in the emergency department.
How do you feel the ICT program made use of your military training?
It was very clear to me from the outset that my military skills and training were being recognized in ways that they weren't elsewhere (with the exception of serving as a ski patroller in Montana). One of my personal missions here has been to demonstrate those capabilities and share that with my VA teammates as much as I can.
I don't believe those thoughts and feelings are unique to me, and in fact, I'm pretty sure that's one of the highest priorities and sentiments for all ICTs attempting to transition and translate their experience from the military to here. Having our training, experience, and service roll over as smoothly as possible without trying to reinvent the wheel means a lot to us and is a win for all parties involved.
What made you decide to pursue your nursing degree?
The reason I got out of the military was to continue my medical education full time to become a health care provider. I've kept an open mind and have made some adjustments along the way regarding which particular route is the best fit for me and my goals.
The constant has been taking on and studying rigorous science coursework, doing and exposing myself to research, and pushing myself to keep leaning forward in my educational journey. I've wanted to be adequately prepared and well trained enough to read, write, speak, listen, and think critically wherever the path takes me.
When I joined the VA as an ICT, I made a promise to myself that I'd do as much as I could to help the program grow and advance before moving on to the next phase of my education and training. Once I knew policies, standard operating procedures, and foundational curriculum were more developed and in place, I was comfortable moving on.
What does working at VA mean to you?
I can think of no better place or model outside of the military for medics, corpsmen, and med techs to be given these types of opportunities.
I'd like to reiterate that when supported, ICTs are more than capable and will get the job done with our unique backgrounds, skillsets, and experiences. I'm not the first and definitely won't be the last Veteran medic/corpsman/med tech to have these ideas, so I'm excited to continue learning, growing, adapting, transforming, and contributing to the profession of nursing and VA in my pursuit of making it happen.
I'm excited about serving as a registered nurse in the next chapter here and to see how everything continues to take shape and evolve going forward.
Work at VA
If you're a Veteran with medical training, consider a job on our team, where your skills and service can be put to use serving Veterans just like you.