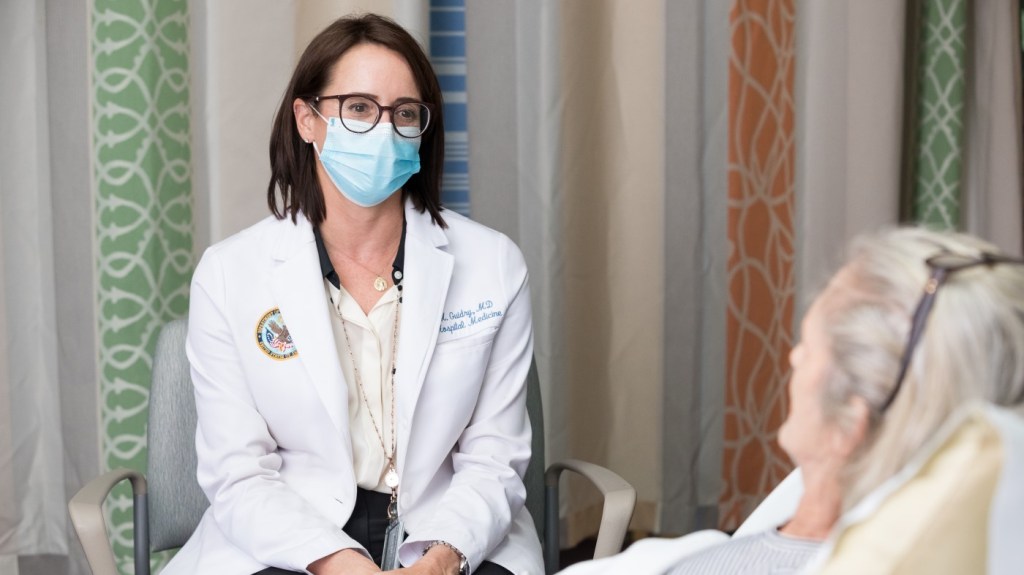 It's rare to find someone whose life hasn't been touched by Alzheimer's disease, especially among our aging Veteran population. And, whether online or in person at VA facilities, there are many ways to find a meaningful career caring for those battling the disease.
On World Alzheimer's Day, celebrated on Sept. 21 each year, the world concentrates its efforts on creating awareness of Alzheimer's disease. This progressive illness involves the deterioration of nerve cells in the brain—which in turn affects thoughts, memory, and language—and accounts for 60% to 80% of all diagnosed dementia cases.
Compassionate care for Alzheimer's patients
VA has many programs to support older Veterans, as well as their families and caregivers, as they work through the challenges presented by this disease. Among the services we provide are:
Home-based primary care
Homemaker and home health aides
Respite care
Adult day health care
Outpatient clinic services
Inpatient hospital services
Nursing home services
Hospice care
Caregiver support
We also offer a range of specialized geriatric services for Veterans and families to help them cope with complex health conditions in later life. Because of the diverse nature of geriatrics, the specialty welcomes all sorts of clinical roles, including doctors, nurses, pharmacists, and more. There are even nonclinical roles that handle patient scheduling and other administrative duties.
Each one of these provides an opportunity for you to provide caring, compassionate assistance to the Veterans who have served our country.
"It takes all of us to make things work," explained Cheryl Schmitz, deputy executive director of VA's Office of Geriatrics and Extended Care. "It really is that difference of views, the differences of experiences, that really helps us be innovative and the best."
Specialized care for Alzheimer's patients
When it comes to providing for the mental health of our older Veterans living with Alzheimer's, geriatric psychiatrists bring a unique expertise to our team. They focus on evaluation, diagnosis, and treatment of mental and emotional disorders in the elderly.
Aging Veterans may experience depression, anxiety, distressing memories from their military service, or stress related to health concerns—including pain, sleep troubles or memory problems. Even something as basic as increased difficulty getting around isn't limited to just the physical—there can be a mental component attached to the possible loss of independence.
However, the key difference for geriatrics professionals is their experience with older adults who have multiple medical issues and take multiple medications. For example, VA studies have shown that older adults who take 3 or more medicines that work on the central nervous system are at greater risk.
Having people who specialize in Alzheimer's and geriatric medicine allows us to tackle these concerns head-on, and make sure that the care we're offering improves quality of life for our Veterans.
Researching Alzheimer's
At VA, we don't just wait for Alzheimer's disease to strike. In addition to providing care, VA researchers work to understand and address the causes of Alzheimer's disease, as well as develop therapies to help Veterans maintain a better quality of life.
We conduct this research through our Geriatric Research Education and Clinical Centers (GRECCs). Established to increase basic knowledge of aging and diseases that affect an older population and to improve the health of aging Veterans, VA now operates 20 GRECCs located throughout the United States.
Through GRECCs, our researchers work towards 3 goals:
To increase knowledge of geriatric care through research
To improve health care for older Veterans through innovation
To provide training and education on clinical care for older adults
Some areas of focus for VA's Alzheimer's research are potential drug therapies, genetic and environmental causes, and long-term care models.
"One of our highest priorities is to ensure that Veterans get access to the cutting-edge approaches available only through clinical research," said Dr. Rachel Ramoni, VA's chief research and development officer in discussing an ongoing research partnership with the National Institute of Aging.
And your talents might be the ones we need to make the next big breakthrough.
Work at VA
On World Alzheimer's Day—and every day at VA—there are many ways you can help care for Veterans living with Alzheimer's disease. Learn more about the opportunities we have available.