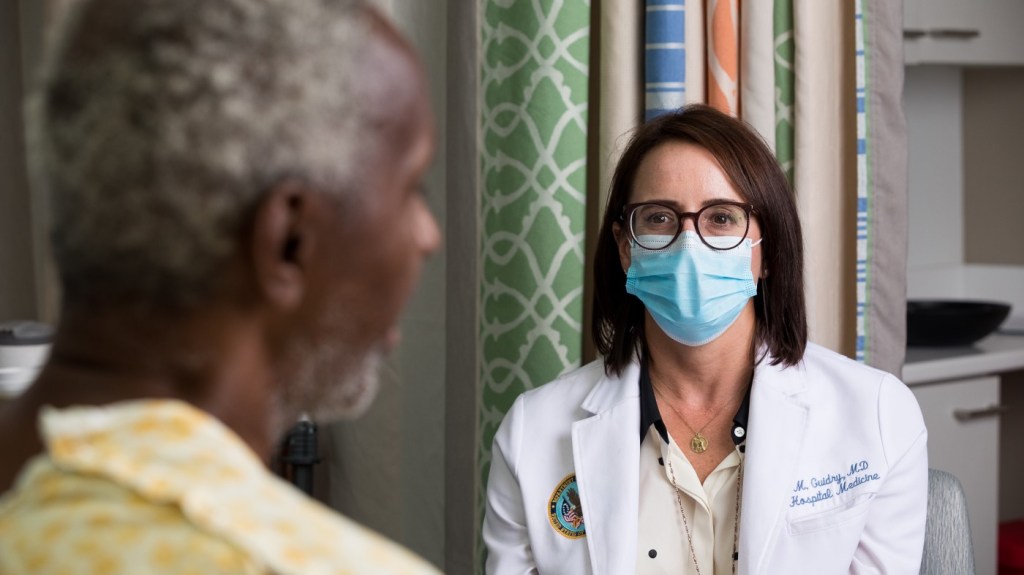 Developing care plans that address the special health problems faced by older Veterans, VA's geriatric physicians are vital to helping us innovate, making us leaders in the field of geriatrics.
Geriatrics physicians are invaluable when it comes to the unique issues and concerns facing our older Veteran population. Their work has led to the implementation of Patient Aligned Care Teams (PACT), telehealth accessibility, rehabilitation services, and more.
As we work to serve the current geriatric Veteran population, and eye the increases in that population we're facing in the coming years, geriatrics at VA is a field ripe with opportunity for physicians.
Geriatrics at VA is growing
The U.S. population is aging. Currently, 1 in 6 Americans is over the age of 65. By 2030, that number will rise to 1 in 5.
Those numbers are felt even more acutely at VA. There are currently more than 11 million aging Veterans in the nation, making them the largest current demographic of those who have served. It's a number that's only going to increase, meaning many more Veterans will be looking to us to provide geriatric care in the coming years.
However, fewer than 1% of U.S. physicians are board-certified in geriatrics.
Those numbers translate to numerous opportunities for you. As a geriatrics physician, your expertise is in high demand. No matter where you want to live, or where you want to take your career, you'll find that chance at VA.
In fact, we're actively recruiting for geriatrics physicians to support:
VA community living centers, community nursing homes, and state Veteran homes
Geriatric research education and clinical centers
Geriatric evaluation and management, geriatric primary care, and inpatient respite
Hospice and palliative care services in home, community, outpatient, or inpatient settings
Geriatrics at VA makes fiscal sense
With the stringent rules surrounding insurance programs often used by older patients, physicians may simply find it easier to avoid those issues in favor of a more streamlined system.
What we do at VA is driven by a patient-centric approach. We're not concerned about the cost of treatment, only that the result provides a better quality of life for our Veterans. Eliminating the burdensome strictures surrounding insurance offers a freedom in your practice you won't find anywhere else.
"Our work is about what the patient needs, not about the bottom line or what insurance will reimburse," said James Marfield, associate director of VA's National Recruitment Service. "That's liberating for the people who come to work here."
And while it can be appealing for physicians to target other specialties, or even general practice, as a greater reward on your investment, a focus on geriatrics at VA can help you find freedom from the staggering debts associated with medical school.
If you are a physician who has chosen to specialize in geriatric medicine, the Specialty Education Loan Repayment Program (SELRP) provides a loan repayment offer of $40,000 each year, up to a maximum of $160,000 over four years.
In return, you agree to practice at a VA facility, working in a full-time position for 12 months for each $40,000 of loan repayment, with a minimum commitment of 24 months — a guarantee of stable employment that you aren't likely to find elsewhere.
VA also offers access to educational incentives and scholarships through one of the most comprehensive education support programs in the nation. We can help you reach your goals even as you help us deliver on our promise of top-quality patient care.
Geriatrics at VA is satisfying
Geriatrics is considered to be among the most satisfying health professions, and some rank it as the most satisfying career path for physicians. While there are many factors that impact such fulfillment, the intersection between health care and personal interaction is high on the list.
Geriatrics health care professionals find that their connections with patients are inspirational. The deep, meaningful relationships they develop with their patients create opportunities to learn from that hard-earned experience.
You'll find similar stories from the many staff members throughout VA. As any of us will tell you, the work we do is not just a job, it's a mission to provide the best care possible to those who have served our country with honor.
VA health care professionals take that mission to heart, advocating for Veterans and making sure they get the care they need, when they need it. It's a tall order, but we work with a singular focus that makes it simple to explain: we're here to improve the lives of our Veterans.
Work at VA
At VA, we're dedicated to high-quality, Veteran-centered care. As we continue to expand and innovate our work in geriatrics, it's a perfect time for geriatrics physicians to join our team.