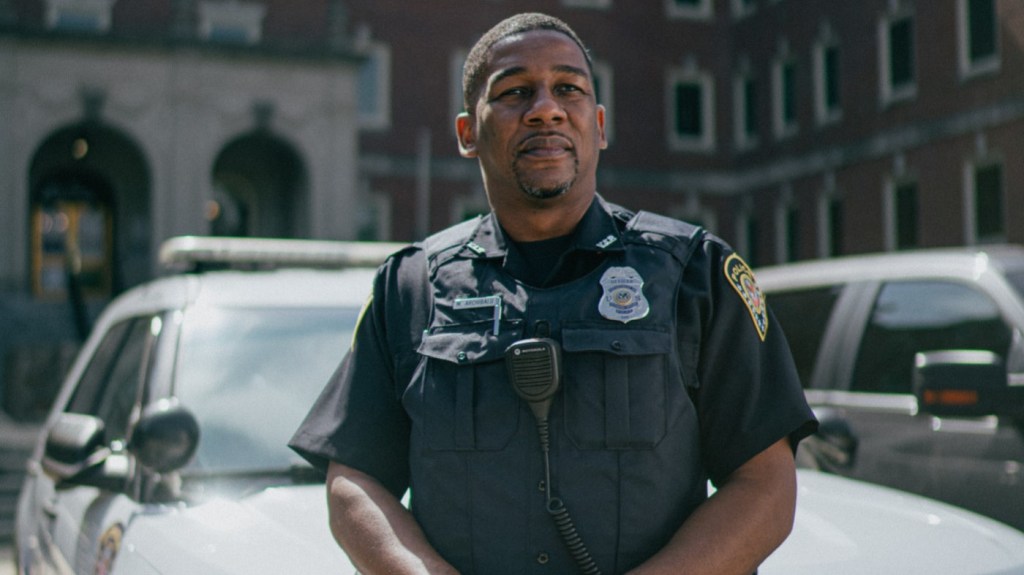 For VA police officers, the safety of our nation's heroes and their families is paramount. Just as medical staffers are committed to providing the best care available, VA police officers are committed to safety, transparency, and ensuring every Veteran who comes through our doors has a safe and positive experience.
A career of service
VA police officers provide protection for our facilities throughout the country. Whether it's at medical centers, community-based outpatient clinics, or any other of our more than 1,300 facilities, you'll find VA police there, including locations in Puerto Rico and the U.S. Virgin Islands.
No matter where they're stationed, our police force offers Veterans and their caregivers a safe environment where they can receive reliable medical care. Those duties can take a variety of forms.
Uniformed officers make up the majority of VA police, and act as front-line security at our facilities. Conducting physical patrols, staffing control desks, and ensuring compliance with rules and regulations is an essential part of securing our facilities.
K-9 officers are used throughout the VA network to add an additional level of security and an additional means of investigation. You can expect to work with your canine partner in many ways, not the least of which will be performing searches on VA property for illicit drugs or missing patients, as well as screening vehicles, buildings, rooms, luggage, or even mail.
Criminal investigators use an array of innovative procedures to solve crimes that go beyond standard patrol assignments or cannot be resolved through the reporting officer's initial investigation. Internal affairs investigations fall under the purview of criminal investigators, as does data analysis — examining crime trends, performance metrics, and customer service data.
Training officers have a gift for teaching and a passion for sharing knowledge, adding to the training and preparation of the officers you work with, above and beyond what VA's Law Enforcement Training Center provides. This training may take the form of classroom-style lectures or even the ongoing weapons training of your fellow officers.
Like all federal law enforcement agencies, we use technology like body cameras to help build trust, demonstrate transparency, support officers, and strengthen our commitment to de-escalation and avoiding use of force.
Veterans serving Veterans
With nearly 90% of our police officers coming from a military background, law enforcement with VA police is an excellent career path for Veterans without health care training who are interested in helping other Veterans.
"Law enforcement itself is such a noble mission, but there is no more noble mission than taking care of our nation's Veterans. That's truly what brought me to VA," said Biloxi VA Medical Center Chief of Police F. Keith Bradley, a 22-year Air Force Veteran.
"The Veteran is always at the center of everything we do," Bradley continued. "We get to speak to Veterans on a daily basis, talk to Veterans, assist them. A lot of times these are truly urgent requests, and many times across the nation, every day, VA police are helping Veterans get the care they need."
Providence VA Medical Center Chief of Police John Thibodeau experienced that first-hand. He once arrested a Veteran for disorderly conduct in the VA facility, but also gave the Veteran his business card, offering to be a kind ear if the Veteran needed one. Years after the arrest, that Veteran used it, calling Thibodeau for assistance.
Recognizing the patient's distress, Thibodeau, who is also a Veteran, encouraged the caller to go the nearest VA. When the Veteran expressed his concerns about dealing with mental health providers, Thibodeau reached out to his counterparts at the closest facility to assist the Veteran in getting the help he needed.
"I don't think it's a big deal, it's just something we would normally do," Thibodeau said. "I know any of the officers here in Providence would do something similar to make sure all Veterans get the help they need."
Work at VA
We are building a 21st century police force focused on transparency, accountability, and efficiency to further increase the safety and security of Veterans, staff, and visitors to our facilities. Join our team.