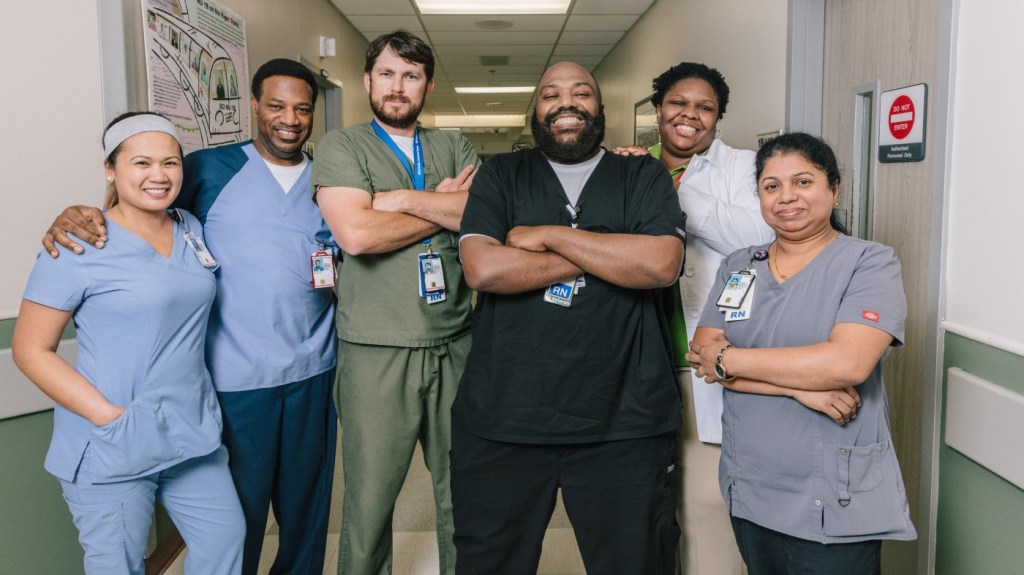 Explore a different kind of primary care career at VA.
These careers come with unique benefits not found in other health care systems, things that not only improve the satisfaction of the Veterans we serve, but also your own quality of life.
Our primary care physicians, nurse practitioners (NPs), and physician assistants (PAs) work to deliver high-quality care to Veterans nationwide. Within VA's integrated health care system, you'll play a vital role in providing frontline medical services to Veterans.
Primary care is patient-centric
For anyone working in primary care, time to spend with your patients is considered a luxury. At VA, though, we make spending time with your patients the priority.
"There's an appeal in what we offer in that we treat patients, not numbers," explained James Marfield, associate director of VA's National Recruitment Service. "Our work is about what the patient needs, not about the bottom line or what insurance will reimburse."
If you're interested in taking the time to truly learn what your patients need, and then having the time to make the best possible choices for them, VA can give you that time.
Primary care is flexible
We know you value personal time to spend with your loved ones or pursue your interests, and with a career working at VA, you'll find ample time to step back and recharge your batteries.
When you bring your primary care skills to VA, you'll earn 13 to 26 days of paid annual leave, as well as 13 sick days annually, with unlimited accumulation. We also celebrate 11 paid federal holidays and offer up to 12 weeks of paid parental leave if the time comes to expand your family.
And for our employees who are still serving, we provide up to 15 days of leave for active reservists and National Guard members, supporting your continued defense of our country even as you support our Veterans.
Primary care is rewarding
If you're interested in becoming a primary care practitioner at VA, we have options that can help you escape the burden of student debt as a reward for your commitment to serving Veterans.
Take a look at just a few of the education support programs you can explore when you work at VA.
For some primary care roles, VA's Education Debt Reduction Program (EDRP) offers loan repayment up to $40,000 a year.
Through the Student Loan Repayment Program (SLRP), some employees may be eligible for up to $60,000 in assistance in exchange for signing a service agreement.
By cancelling loans after 10 years of public service, the Public Service Loan Forgiveness (PSLF) program removes your student debt through a career at VA.
With our help easing that financial burden, you'll be better able to focus on what matters — our Veterans.
Primary care is everywhere
Sometimes, you just need a change of scenery. Your reasons can be personal or professional, but in either case, there's no need to leave your VA career behind or to sacrifice the benefits you've earned as part of our team.
One active, unrestricted license allows you to work at any of our more than 1,300 facilities across all 50 states, the District of Columbia, and even some U.S territories.
So, pack your bags. With vacancies all across the nation, you can work just about anywhere you've ever dreamed of, and still enjoy the same great benefits your work deserves.
Primary care is team-based
Our patient-aligned care teams (PACTs) are the cornerstone of care at VA. Proactive and personalized, PACTs provide coordinated care through collaboration and take a positive approach to care.
PACTs place the Veteran at the center of the care team that also includes their family members and caregivers, as well as their health care professionals. No matter your role, you'll be part of a cooperative team tailored to the specific needs of the Veteran you're serving.
"You've got a limitless number of physicians and other clinicians out there you can lean on for advice or input, fellow civil servants who are all here for the same reasons you are. You can't get that kind of support anywhere else," Marfield said.
Work at VA
Primary care careers offer rewarding, fulfilling opportunities to serve those who have served. Explore openings nationwide and learn about all job at VA has to offer.