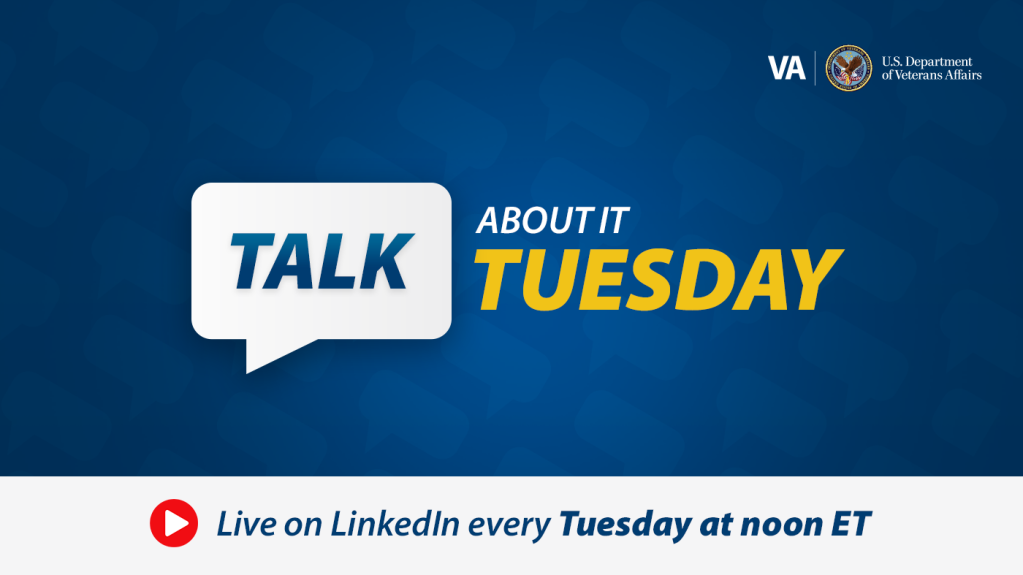 Did you ever wonder why someone might choose to work at VA? Well, we ask every one of our "Talk About It Tuesday" guests that very question, and what we've learned is that VA is a place that puts people first.
While there are a number of things that make VA a great place to work—great benefits, education support programs, a better balance between life and work—you'll find that, time and again, members of our team find themselves united behind a common goal: giving back to America's Veterans.
That team, and that mission, are what make us special. But you don't have to take our word for it.
A mission of service
"I've enjoyed working for the VA for nearly 30 years. During that time, I've made lifelong friends. I've learned and grown personally and professionally. As a VA nurse, I've been blessed and given opportunities," said VA national nurse recruiter Eden Picketts. "And most importantly, I've cared for our nation's heroes. Our unique and complex patient population has given me a sense of duty.
She concluded her summary of our mission simply, saying, "I wasn't able to serve, but I love that I can take care of our nation's heroes."
"A lot of that camaraderie that we have in the military, for me, transfers over into VA. Everybody there has a mission, and that's one of my favorite things," explained Paul Gaffney, manager of VA's Contract Buy-Out Program for physicians and providers. "I'm a very true believer in what we're doing, and that makes me enjoy my time working with VA."
He continued, "For me, it's just a fun environment. It's an interesting environment. VA is always at the leading tip of the health care spear, and just being able to be a part of that, that's the fun part for me."
A team that can't be beat
"The caliber and the quality of the individuals that I work with are second to none," said Rodney Back, Specialty Education Loan Repayment Program (SELRP) manager. "As a disabled Veteran myself, I think about the mission that we do as far as taking care of our Veterans, and I think [what we do] goes a long way to providing quality health care providers who are able to take care of individuals such as myself."
"I will put my team up against any team in the Department of Veterans Affairs," said La'Toya Prieur, deputy executive director of operations at the Veterans Benefits Association. "My team is a team of doers, and we are results driven. That is the best thing, knowing that I have a strong team around me that is committed to the mission."
Because I CARE
VA's mission statement is simple: "To fulfill President Lincoln's promise to care for those who have served in our nation's military and for their families, caregivers, and survivors."
To honor that promise, we begin every day with a fresh commitment to making life better for the more than 9 million Veterans who count on VA for quality health care. To do so, we uphold 5 core values that remind us of our mission to serve those who served and help foster a supportive, innovative work culture.
Integrity: We choose to act with the highest professional standards and maintain the trust of all with whom we engage.
Commitment: We work diligently to serve Veterans and are driven by an earnest belief in VA's mission.
Advocacy: We are truly Veteran-centric, as we work to identify, consider, and advance the interests of Veterans.
Respect: We treat all those we serve and with whom we work with dignity and respect, because we believe you must show respect to earn it.
Excellence: We strive for the highest quality and value continuous improvement.
These values keep us inspired and focused on doing our best for Veterans and their families every day. Each of us accepts the idea that "I CARE" because it's up to all of us to make sure Veterans can enjoy the health and happiness they deserve.
Work at VA
If you have a mind to take on our mission of serving Veterans, don't wait. Take the first steps to joining our team today!