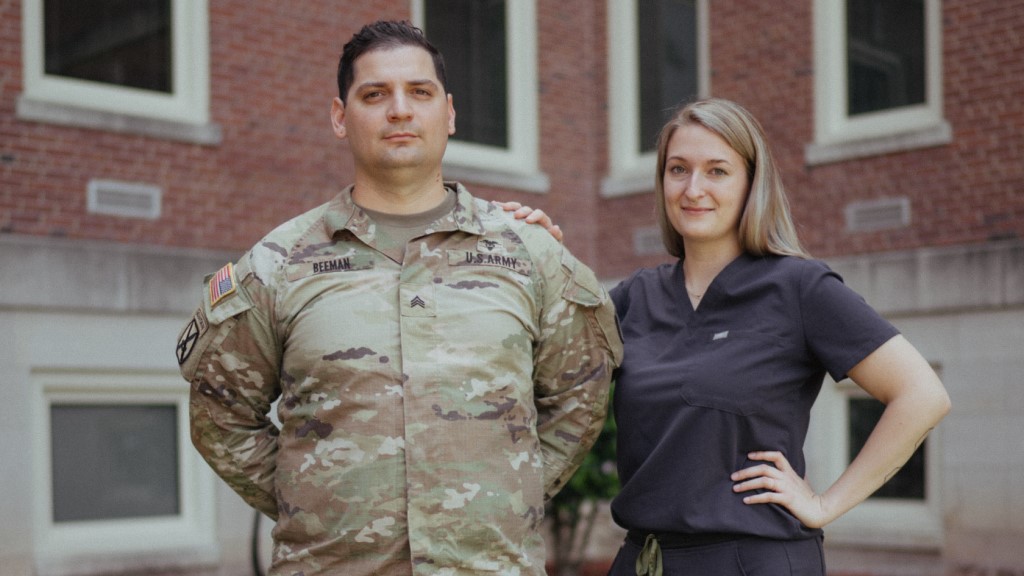 After years of serving your country, making the leap from military life to the civilian world can seem daunting, but for transitioning military personnel like you, there's no better place to land than at VA.
That's because many of the people you'll meet at VA have made that same journey. From the Veterans we care for to the coworkers who stand beside you, they know the difficulties you're facing, but also the rewards in having been part of something much larger than yourself — a feeling you'll continue to find when you work at VA.
Ready to take your place at one of the most Veteran-friendly employers in the country? Here are 4 things transitioning military personnel can expect from a VA career:
A sense of belonging
There are thousands of Veterans and transitioning military personnel just like you who have chosen to work at VA. Whether they're doctors, nurses, administrators, or even our VA police, more than 30% of our staff has served in the military in some capacity, and they've chosen to continue being of service.
You'll find that bringing your military experience to VA will ease the transition to civilian life because the people around you understand what you're going through. In turn, you'll learn that your service has gifted you with a greater understanding of the challenges that face the Veterans we serve.
A familiar mission
Our employees start each day ready to make life better for the brave men and women who have given so much to protect our freedom and our country. We are dedicated to providing them with the high-quality care they deserve, and that mission runs through everything that we do.
You understand that mission, because when you were called to join the military, you did so without reservation. You and the people beside you were committed to serving those who needed you the most, and at VA, you'll find that same dedication in everything we do.
A place for your skills
The work you did in the military corresponds to many similar jobs here at VA. Combat medics can become Intermediate Care Technicians, while firefighters, carpenters, locksmiths, and more all have a place as part of our team.
Even if your skills don't directly translate to a specific career, we know that qualities instilled by the military — integrity, communication, leadership, and courage under pressure — have made you a perfect candidate, which is why we have so many programs aimed at bringing Veterans and transitioning military personnel like you on board.
A bevy of benefits
Your military service has already made you eligible for numerous post-service benefits, but there's plenty more waiting at VA.
To begin with, our employees receive 13 to 26 paid vacation/personal days, as well as 13 sick days annually with no limit on accumulation. We also celebrate 11 paid federal holidays each year and offer up to 12 weeks of parental leave if you choose to expand your family.
Then there are the robust health care and life insurance options, and how we'll help you plan for the future with access to the Federal Employees Retirement System (FERS) and Thrift Savings Plan (TSP), life insurance, and long-term care insurance.
Best of all, you can add VA benefits to your full military retirement pay or pension, maintaining everything you've earned from both your careers even as you continue your path of service.
Work at VA
When you're stepping into civilian life after the military, VA can offer you unparalleled opportunities and career satisfaction that can't be found anywhere else.