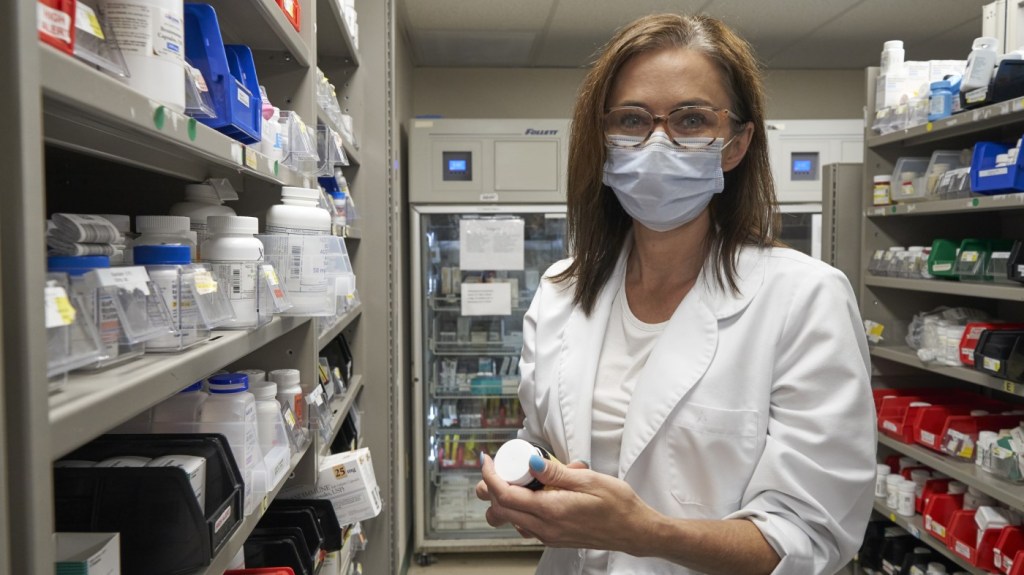 If you have experience and training working in a pharmacy, a job at VA is your next stop. As we celebrate American Pharmacists Month, there's no better time to learn about careers prescribing and dispensing care to the Veterans we serve.
As valued members of our patient care teams, our pharmacists and pharmacy technicians are encouraged to bring the whole scope of their training to bear on behalf of their patients, and in the process earn numerous employment benefits that you won't find anywhere else.
Your knowledge, your authority
At VA, we look beyond traditional clinical roles to give you more influence on the course of patient care. Our pharmacists have unique authority over some aspects of patient care, like being able to write prescriptions directly.
"This is a lot different from the collaborative practice agreements that exist in the private sector," explained Dr. Christina White, chief of pharmacy at Robley Rex VA Medical Center in Louisville, Kentucky. "The pharmacist has full autonomy to provide medication therapy management and order medication under the pharmacists name."
White noted that VA pharmacists can start new medications, stop medications, order labs, "whatever needs to be done." Pharmacists receive a diagnosis from the doctor but will write and fill a prescription based on a patient's medication history and their own knowledge.
"It really is the epitome of working at the top of your license," she said. "That's by far the best and most unique thing about working as a pharmacist at VA."
Uncommon benefits
In addition to this autonomy, White pointed out that there are numerous employment benefits available to pharmacists at VA, not the least of which is the ability to practice anywhere within our system with one active license.
"The nice thing about being part of a federal organization is that you only need one state license, and then you can practice at any facility," she said, so it's "very easy to move around" to pursue opportunities.
That's a unique benefit you won't find anywhere else. In addition, VA offers a range of employment benefits that can make a huge difference in your life and your career.
We offer the choice of a variety of health maintenance organizations or fee-for-service health plans, and all cover preexisting conditions. Additionally, we pay up to 75% of health premiums, a benefit that can continue into retirement, making our insurance some of the best you'll find in health care.
Our employees receive 13 to 26 paid vacation/personal days, as well as 13 sick days annually with no limit on accumulation, and we celebrate 11 paid federal holidays each year, so your schedule can be balanced with your personal priorities.
And when you're ready for a new challenge, we offer ongoing leadership development through every level of employment, whether it is mandatory programs or competitive opportunities. We also have resources that make it easier for you to continue your education if you choose.
"Since VA is a leader in offering telehealth modalities for patient care," added White, "some pharmacists can work from home, either full time or part time."
Technical expertise
Since VA offers pharmacists the unique ability to write prescriptions independently, the work of a pharmacy technician is even more important. We're looking to hire 3,700 new pharmacy techs over the next 5 years to help us better meet the needs of our Veterans, and when you join our team, you'll be that much closer to the decisions being made to assist them.
You'll work closely with the pharmacists to ensure the health and safety of our Veterans. It will be your responsibility to locate, dispense, pack, and label prescribed medication for patients.
The environment will be unique as well, with the opportunity to work in both outpatient and inpatient settings.
While some Veterans require prescriptions that they take home with them, and others may receive their prescriptions through the mail with our Consolidated Mail Outpatient Pharmacy, there will also be patients who need your assistance in the halls of our VA medical centers. Those Veterans who need chemotherapy or IV dosages will be looking to you to make sure their medications are provided safely and securely.
When not interacting with our Veterans, you might also help pharmacists with administrative tasks such as processing insurance claims, tracking inventory and filing paperwork, or even updating and replenishing the supplies on the emergency carts used by our teams.
In turn, you'll enjoy many of the same benefits we offer pharmacists.
Work at VA
"The one thing we all have in common is our dedication to the mission of providing the best care to our Veterans," said White. "You'll find that no matter what facility you walk into.