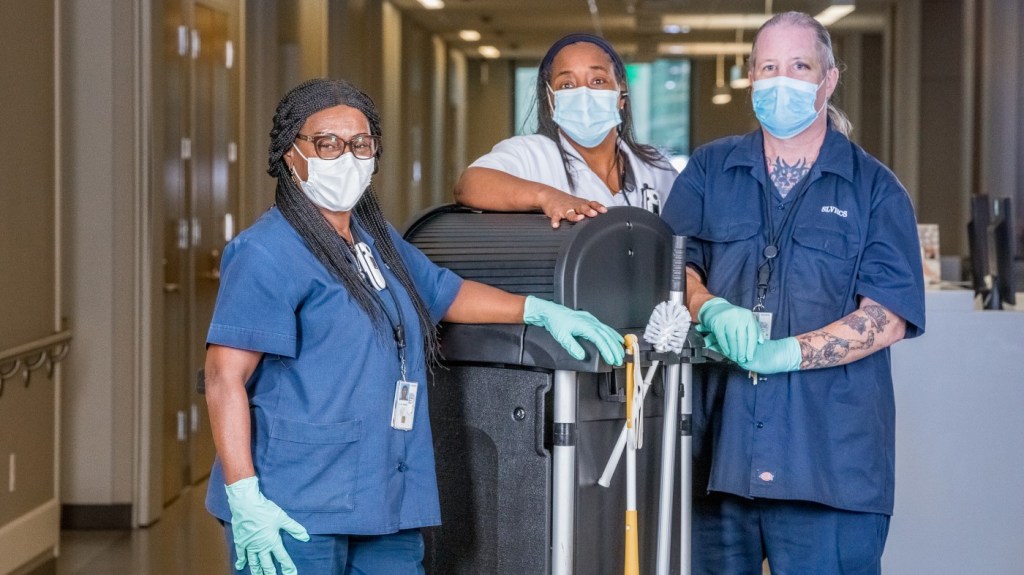 When it comes to keeping our facilities clean for our Veterans and visitors, environmental service (EVS) technicians and housekeeping aides are our experts. Whether you're mopping floors, vacuuming carpets, washing windows, collecting trash, or filling dispensers, the work you do makes our facilities not just clean, but safe.
A vital role
Although their work is often behind the scenes, EVS technicians are vital to maintaining our readiness to serve Veterans. They ensure that thousands of medical facilities across the country are clean and safe for patients, staff, and visitors, a task that had never been as important as when we faced the battle with the COVID-19 pandemic.
The importance of the work done by EVS technicians during the pandemic elevated the role to one of the top 7 priority positions throughout VA. Nationally, EVS technicians join physicians, nurses, medical support assistants, nursing assistants, licensed practical nurses, and food service workers as critical-need occupations on our team.
To help fill the vacancies in these important roles, we've introduced more direct hire authorities. Direct hire authorities allow us to bring you onto the job in about 40-60 days, compared to an average time-to-hire of 100 days.
Combined with the removal of restrictions on the hiring of housekeeping aides, efforts to introduce swifter processing times offer a chance of getting you to work faster. And Veterans who become housekeeping aides also benefit from Veterans' preference in the application process and will work alongside fellow Veterans, who make up large percentage of EVS technicians in our system.
Vital benefits for you
With a job in food services at VA, you'll be able to take advantage of numerous benefits that will change not only your career, but your personal life as well.
We offer the choice of a variety of health maintenance organizations or fee-for-service health plans, and all cover preexisting conditions. Additionally, we pay up to 75% of health premiums, a benefit that can continue into retirement, making our insurance some of the best you'll find in health care.
At VA, our employees receive 13 to 26 paid vacation/personal days, as well as 13 sick days annually with no limit on accumulation, and we celebrate 11 paid federal holidays each year, so your schedule can be balanced with your personal priorities.
And when you're ready for a new challenge, we offer ongoing leadership development through every level of employment. We also have resources that make it easier for you to continue your education if you choose.
Because I CARE
At VA, our core values—integrity, commitment, advocacy, respect, and excellence—define who we are as VA employees and how we will fulfill our mission of service to Veterans. We feel these 5 ideals describe our culture and serve as the foundation for the way we interact with our Veterans and our fellow employees.
Together, these values provide a measure for the standards expected of all VA employees, reminding everyone that "I CARE."
Integrity: We choose to act with the highest professional standards and maintain the trust of all with whom we engage.
Commitment: We work diligently to serve Veterans and are driven by an earnest belief in VA's mission.
Advocacy: We are truly Veteran-centric, as we work to identify, consider, and advance the interests of Veterans.
Respect: We treat all those we serve and with whom we work with dignity and respect, because we believe you must show respect to earn it.
Excellence: We strive for the highest quality and value continuous improvement.
Work at VA
EVS technician positions are open at VA facilities across the United States and its territories. Find an open position near you and join a team with great benefits in service of a mission that matters.