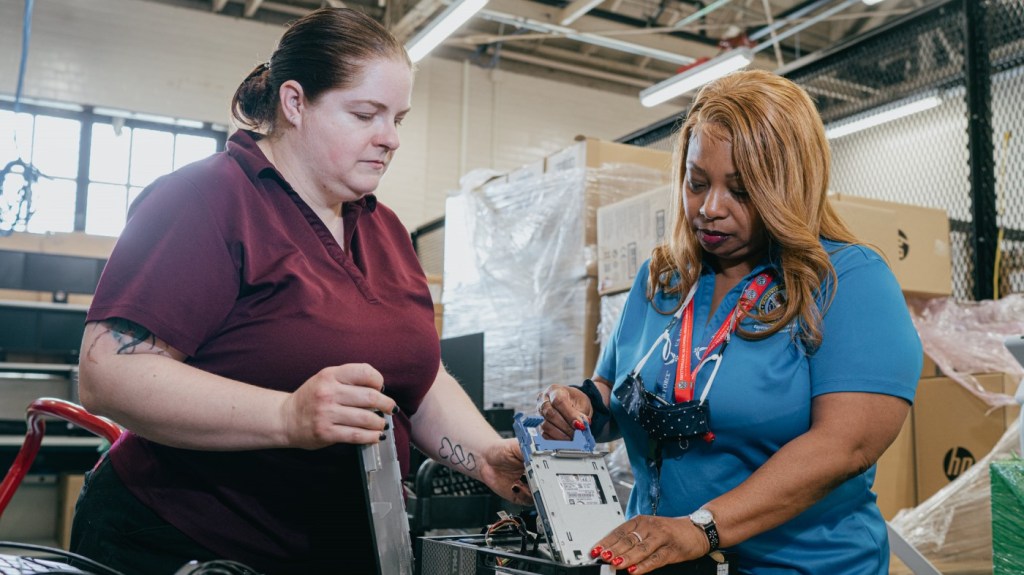 You can't provide world-class health care without world-class technology. From calibrating medical equipment and training clinical staff to making sure our computer networks are functioning and secure, we're looking for technology professionals like you to help us advance Veteran care.
Whether working on the nonclinical side in information technology (IT), or collaborating on clinical endeavors in biomedical technology, the contributions you can make are valuable, and are critically needed right now in many locations throughout VA.
Information technology 
Our IT professionals improve the Veteran experience by delivering innovative technologies and ensuring networks are safe and working well.
As an IT specialist, you will provide technical support to customers who need assistance with hardware or software, following the established protocols and procedures developed by VA's Office of Information and Technology (OIT). Your duties can be a mixture of phone support, desk-side technical support, and bench-top diagnosis and repair.
There are many current listings all over the country, as well as some being posted in anticipation of future vacancies. This listing on USAJOBS aims to fill jobs at 65 locations across the United States, including in Arkansas, Florida, Colorado, Louisiana, Mississippi, Missouri, Montana, Oklahoma, Texas, and Wyoming.
OIT is also looking for IT project managers for a wide variety of endeavors. Based on your area of expertise, you could lead efforts to:
Work with health care, education, and financial analysts to perform technical investigative research
Analyze computational models that inform Veterans' benefits eligibility for health care, home loan guarantees, educational benefits, and more
Research how electronic health care data can be used to deliver better care and services to Veterans
Anticipate risks and develop action plans to support Veterans when IT systems fail
Biomedical technology and engineering
Biomedical technology careers offer the opportunity to collaborate with clinicians and health care providers on the development and implementation of new equipment at VA.
Our biomedical equipment support specialists exist at the intersection between medicine and technology. They make sure diagnostic equipment, therapeutic devices, monitoring tools and other equipment work well in improving health service delivery systems for communities, VA facilities, and our Veteran patients.
With your extensive practical knowledge and expertise in engineering, IT, physiology, anatomy, and more, you can expect to advise clinicians and management when acquiring and/or replacing medical equipment and systems. You may also need to evaluate equipment for appropriateness to your facility's needs.
Our teams are recruiting for these positions throughout the United States, with openings right now in Utah, New York, Nebraska, Kansas, West Virginia, and elsewhere.
There are also opportunities for biomedical engineers. This is a job that mixes engineering concepts with biological sciences like chemistry, anatomy and physiology, and biology. By merging the disciplines, a biomechanical engineer can manage the equipment that is used in VA's medical centers around the country.
Prominent locations currently seeking biomedical engineers can be found in New York, specifically Buffalo and Syracuse, though recent positions have also been advertised in West Virginia, Virginia, Iowa, Pennsylvania, Illinois, and more, so keep checking USAJOBS to find a position in your neck of the woods.
Biomedical engineers can also take advantage of many career paths within VA. You can progress to a supervisory role—moving into project management, overseeing equipment throughout the hospital, and incorporating fiscal responsibilities and human resources interactions as you manage the safe and effective use of the equipment.
While more involved in maintenance of our facilities, supervisory health care engineers also play an important role in the technology field, working with biomedical engineers to integrate technology into our facilities.
Work at VA
If you have technology training, there are many opportunities for you throughout our network. Explore your options and learn what we have to offer.