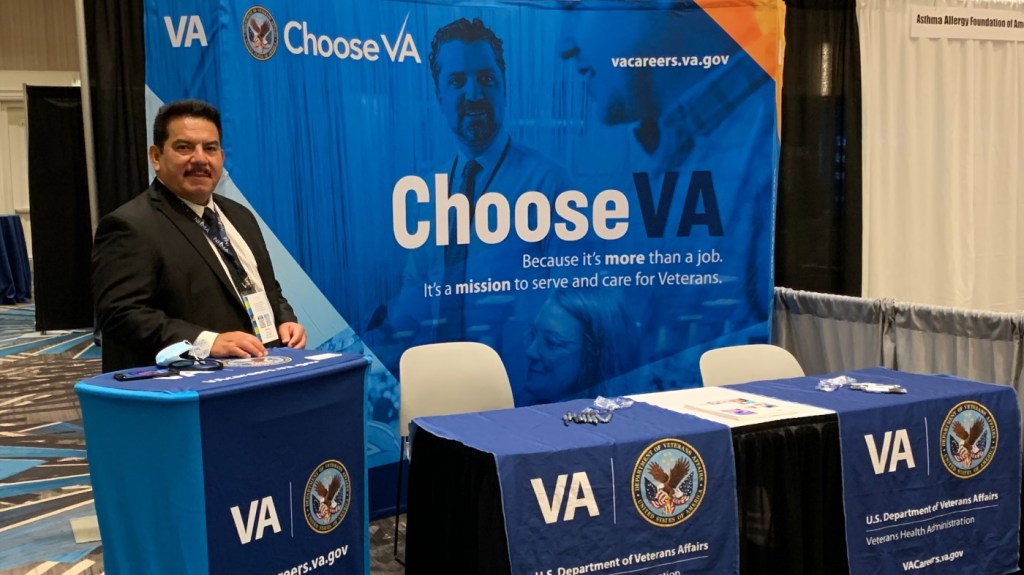 While the winter months may mean colder temperatures and maybe even some unpleasant weather, we'll still be offering the chance to heat up your career at several events around the country this November and December.
If you've been considering a job at VA, meet with our recruiters and learn about what we have to offer as we attend events with:
The science of aging
The Gerontological Society of America will host its Annual Scientific Meeting from Nov. 8-12, 2023, and offer numerous opportunities for career development and networking. Nearly 4,000 researchers, clinicians, educators, and other professionals are expected to visit Tampa, Florida, to learn about and discuss the latest trends, research, and key issues in the field of aging.
As we look to serve the ever-growing population of aging Veterans in our country, we're looking to hire candidates with expertise in aging, so you'll find our recruiters there, too. Whether you're interested in direct patient care or research, there's a place for you at VA, so stop by our booth and meet with members of our team.
You can register for this event here.
Finding joy in your work
The Association for Behavioral and Cognitive Therapies is heading to Seattle for its 57th Annual Convention from Nov. 16-19, 2023, offering a chance to learn and engage with the very best in clinical science and practice in the shade of the Space Needle.
In keeping with this year's convention theme, "Cultivating Joy With CBT," VA recruiters will be available to discuss our unparalleled life/work balance, opportunities to grow your skills, and meaningful service to our nation's heroes. Talk with our experts and see the joy VA can share in your career.
You can register for this event here.
Learning to lead
The Radiological Society of North America will host its 109th Scientific Assembly and Annual Meeting in Chicago from Nov. 26-30, 2023. VA will be at this annual meeting, which provides radiology professionals and industry partners with endless opportunities to learn, connect, exchange ideas, and see the latest technology in action.
This year's theme, "Leading Through Change," focuses on how radiology professionals can be intentional and proactive while leading teams and organizations through change. At VA, we pride ourselves on being an organization that offers you the chance to shape your career and become the leader in your field that Veterans deserve.
You can register for this event here.
When healing is in your blood
The American Society of Hematology (ASH) is taking its 65th Annual Meeting and Exposition to San Diego from Dec. 9-12, 2023. The ASH marks this gathering as the premier education and scientific event in the field of hematology, helping hematologists conquer blood diseases worldwide.
While the event will offer numerous sessions devoted to scientific programs, education programs, and special interests, attendees will also have an opportunity to meet with recruiters from VA. They can share information about all the ways we can help you change the landscape of Veteran health care with an organization that embraces who you are and what you have to offer.
You can register for this event here.
Because I CARE
If you have the opportunity to meet with our recruiters, one thing you'll learn about VA is that our core values—integrity, commitment, advocacy, respect, and excellence—define who we are and how we embrace our mission to care for Veterans. These 5 ideals describe our culture and serve as the foundation for the way we interact with both our Veterans and our fellow employees.
Integrity: We choose to act with the highest professional standards and maintain the trust of all with whom we engage.
Commitment: We work diligently to serve Veterans, and are driven by an earnest belief in VA's mission.
Advocacy: We are truly Veteran-centric, as we work to identify, consider, and advance the interests of Veterans.
Respect: We treat all those we serve and with whom we work with dignity and respect, because we believe you must show respect to earn it.
Excellence: We strive for the highest quality and value continuous improvement.
Together, these values provide a measure for the standards expected of all VA employees, reminding everyone that "I CARE."
"The Veterans, when they come in, and you get to shake their hand, it's great to be able to interact with them," explained Lauran Warburton, registered nurse and admissions coordinator at the Butler VA Medical Center domiciliary.
Work at VA
Are you ready to take the first step toward a rewarding VA career? Join our recruiters at these upcoming events.