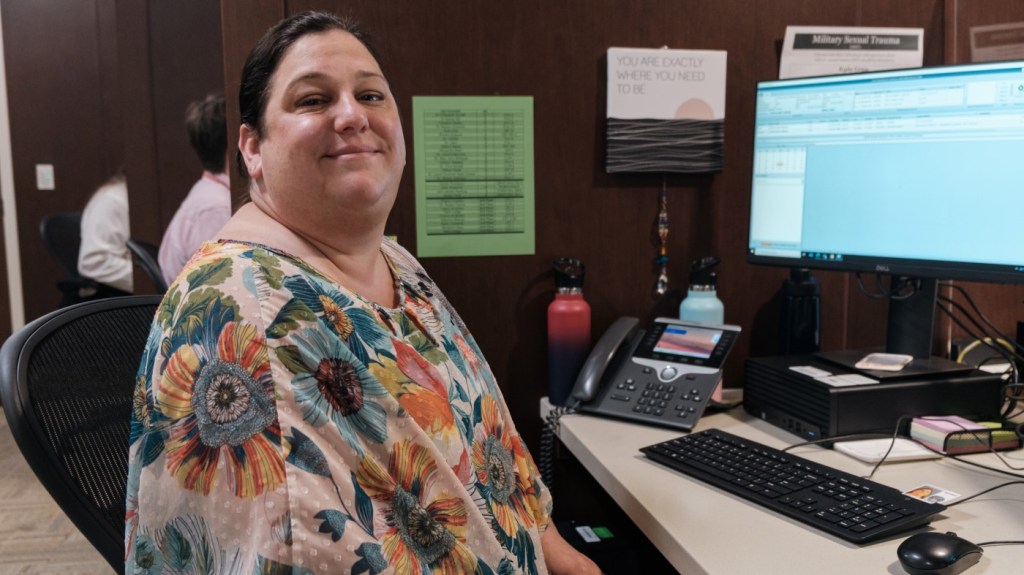 Be the face of VA to the Veterans who walk through our doors as a medical support assistant.
Our mission—caring for the Veterans who served our country—is one of the many reasons people come to work at VA. At our more than 1,300 locations across the United States and its territories, medical support assistants strive daily to get Veterans the help they need, making their visits smooth and satisfying.
If it involves customer relations and connecting Veterans with care, it's a medical support assistant holding the reins.
An important role
Medical support assistants handle customer service, appointment scheduling, and records management. You'll answer phones, greet Veteran patients, schedule appointments and consults, help determine a clinic's daily needs, verify and update insurance information, and more.
By handling these duties, medical support assistants ensure that day-to-day operations flow smoothly to the benefit of their teammates and, most importantly, our Veterans.
"I attend Veterans. I help them with their appointments. I help them with their needs," explained David Velazquez, a Veteran who works as a medical support assistant in the Mayagüez VA Outpatient Clinic in Puerto Rico. "We're the first people that see the Veteran and guide them where they have to go."
The start of your journey
A job as a medical support assistant is a great way for someone to get their foot in the door at VA. It's a job that's typically open to the public, and the work doesn't require as much specialized experience as other professions.
It's also an excellent opportunity for Veterans and transitioning military personnel who want to give back to their fellow Veterans, but don't know quite where to start.
"They're my people. They're Veterans, just like me. And I'm helping other people just like me, people that are going through the same things I'm going through or I went through," said Velazquez. "It motivates me. Working in the VA just pretty much changed my life. Joining the VA gave me a mission. That's why I'm here."
A bounty of benefits
With a job as a medical support assistant at VA, you'll be able to take advantage of numerous benefits that will change not only your career, but your personal life as well.
At VA, our employees receive 13 to 26 paid vacation/personal days, 13 sick days with no limit on accumulation, and 11 paid federal holidays each year, so your schedule can be balanced with your personal priorities.
We also offer the choice of a variety of health maintenance organizations or fee-for-service health plans, and all cover preexisting conditions. Additionally, we pay up to 75% of health premiums, a benefit that can continue into retirement, making our insurance some of the best you'll find in health care.
A path to the future
Working as a medical support assistant is also a great way to explore health care careers.
By being involved in a patient's journey through the system from start to finish, you can get a better sense of where you might want to go with your career, and for members of our team looking to continue their education, there are scholarships available to help you on that journey.
The Employee Incentive Scholarship Program (EISP) provides eligible VA employees with a tax-free scholarship of up to $44,228 toward the cost of higher education, including tuition, required fees, and books. While you may apply if you are in a clinical occupation, it's also designed to help people looking to move into a clinical role.
VA employees who are enrolled in school full time may receive replacement salary funding and up to $44,228 toward the cost of higher education through the VA National Education for Employees Program (VANEEP). This program provides tax-free scholarships and replacement salary funding to help you expedite completion of your approved academic program.
Work at VA
If you're ready to discover a rewarding career providing assistance to Veterans, now is the time to join our team.