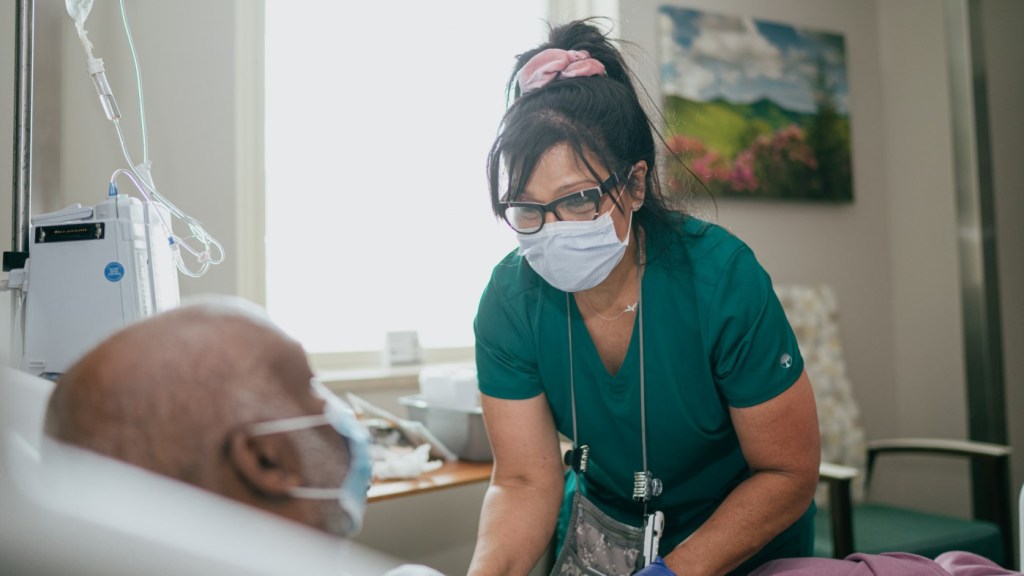 Nurses are the backbone of VA's health system and have a profound impact on the lives of Veterans every day. As you consider a career as a VA nurse, keep in mind that there are many opportunities to take your career to the next level.
"VA offers so much more than any other employer," explained nurse recruiter Laura Sarmiento. That includes generous nursing education scholarship opportunities, tuition reimbursement programs, and educational opportunities.
VA's Student Trainee Experience Program (VA-STEP)
Designed for outstanding nursing students, VA's Student Trainee Experience Program (VA-STEP) assists you as you develop both clinical competence and confidence in Veteran-centric care. Even better, VA-STEP serves as path to employment with VA after graduation and licensure.
Through this program, you'll be employed as a trainee, working full-time over the course of a 10-week summer program between your junior and senior years. For 400 hours, you'll work under the supervision of a mentor, earning a salary while caring for our Veterans at a local VA facility.
National Nursing Education Initiative (NNEI)
Through the National Nursing Education Initiative (NNEI) scholarship program, registered nurses (RNs) who work part-time or full-time at VA for at least one year can receive tax-free funds to support their pursuit of higher education, including tuition, registration fees, and books. In return, scholarship recipients agree to work in a VA career for 1 to 3 years.
"My NNEI scholarship showed VA believed in me by investing in my professional development," said VA nurse Debbie Sommer. "My VA mentors provided insight and helped me grow professionally. I am grateful to VA and the NNEI scholarship program for helping me advance my career and providing me with the tools to deliver the best care to our Veterans."
VA National Education for Employees Program (VANEEP)
VA National Education for Employees Program (VANEEP) covers not only some of your education costs but also pays your replacement salary while you attend school full-time.
"This generous scholarship enabled me to attend a program that was elsewise out of my financial reach — it paid a majority share of my tuition," said Isaac N. Womack, a registered nurse who used his VANEEP scholarship to complete nursing school. "It also matched my regular income, allowing me to focus on schoolwork and other professional pursuits rather than spending time at a job."
Skip the student debt
For those nurses who have already completed their training, VA employees with federal student loans may be eligible for loan forgiveness programs.
Education Debt Reduction Program — Choose a health care career providing top-notch care to America's Veterans and receive student loan repayment of up to $200,000 through EDRP.
Public Service Loan Forgiveness Program — Employees with federal student loans may be eligible for PSLF.
Student Loan Repayment Program — Employees in certain occupations may be eligible to receive up to $10,000 per year (with a lifetime maximum of $60,000) to help repay student loans through SLRP. Request information when submitting your employment application.
Take your VA career anywhere
Sometimes professional development is promoted following personal change. Life can take us in unexpected directions, but with an active U.S. nursing license, our RNs and LPNs can work anywhere in the United States, Puerto Rico, American Samoa, and Guam.
If the time comes for you to take a different path, you'll be eligible to work at any of our 1,300 facilities, and you won't typically lose any employment benefits, accumulated paid leave, or pay when you transfer from another VA facility.
Work at VA
Take your nursing career to the next level — and give Veterans the care they deserve — at VA.